News
Latest News
10.Apr.2022
The official account is online, and you can grasp the discount information immediately!
Just scan the QR CODE below to join the IAM HOTEL official LINE account,
Become a member and enjoy exclusive member discounts every month.
Online booking, online instant question and answer, collection point card collection, member exclusive coupons, etc. can be done with one click.
LINE service introduction
・Online reservation from the hotel's official website
・Online real-time automatic question and answer
・Online evaluation
・satisfaction survey
・IAM HOTEL official SNS/IG link
・Collection point card, exclusive member bonus GET!
・Distributed coupons on site after logging in
Collection point card offer
Episode 10 [late out 2 hours free OR early check-in 2 hours free]
Collect 20 points [Free accommodation for one night in a room suitable for you (limited to 2 people)] The collection of points is limited to 1 person once a day,
The collection is at 1:00 every night, please show the IAM HOTEL LINE official collection card screen when checking in
The collection point card is limited to a single account and cannot be combined for calculation. If there is abuse or improper use, the user will be terminated
Points earned at that time will be cancelled.
In addition, if the hotel will terminate the gathering point activities, it will announce the connection method in advance.
In case of related problems caused by LINE official account termination of service or system abnormality,
Not this limit, please forgive me.
Add friends from here → IAM HOTEL official LINE account
LINE Please search for [ID: @520zjnfn] and follow.
Official Instagram We are planning to prepare limited gifts, so stay tuned.
More news and more discounts will be prepared in the future, please be sure to add our official LINE account.
We are waiting for you to join!!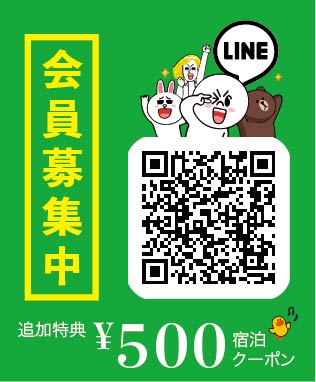 Other